When most of us begin searching for a home, we naturally start by looking at the price. It's important, however, to closely consider what else impacts the purchase. It's not just the price of the house that matters, but the overall cost in the long run. Buyers must factor in multiple factors when considering whether or not they can afford a particular home. Beyond purchase price, interest rates, maintenance and repairs (if buying an older home), HOA fees (if applicable), cost of utilities, and insurance (more on older homes) should all be considered when determining your housing budget.
Mortgage Interest Rates
A HUGE factor to consider today is the low mortgage rates. Low rates are actually making homes more affordable now than at any time since 2016, and here's why.
Today's low rates are off-setting rising home prices because it's less expensive to borrow money. In essence, purchasing a home while mortgage rates are this low may save you significantly over the life of your home loan.
Taking a look at the graph below with data sourced from the National Association of Realtors (NAR), the higher the bars rise, the more affordable homes are. The orange bars represent the period of time when homes were most affordable, but that's also reflective of when the housing bubble burst. At that time, distressed properties, like foreclosures and short sales, dominated the market. That's a drastically different environment than what we have in the housing market now.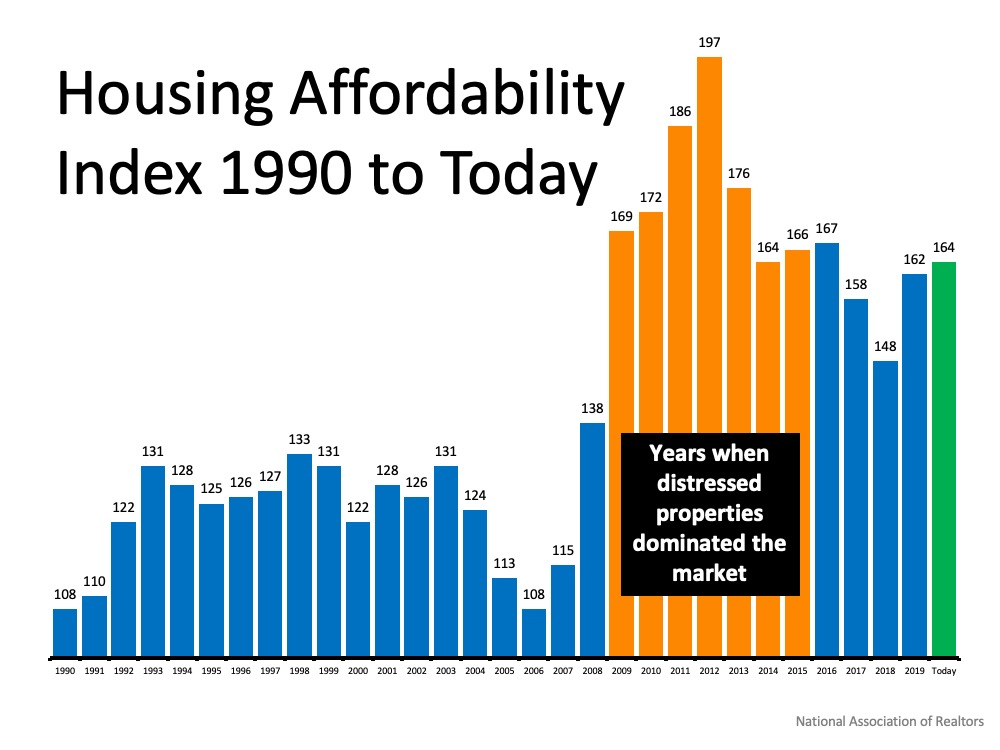 The green bar represents today's market. It shows that homes truly are more affordable than they have been in years, and much more so than they were in the normal market that led up to the housing crash. Low mortgage rates are a big differentiator driving this affordability.
What are the experts saying about affordability?
Experts agree that this unique moment in time is making homes incredibly affordable for buyers.
Lawrence Yun, Chief Economist, NAR:
"Although housing prices have consistently moved higher, when the favorable mortgage rates are factored in, an overall home purchase was more affordable in 2020's second quarter compared to one year ago."
Bill Banfield, EVP of Capital Markets, Quicken Loans:
"No matter what you're looking for, this is a great time to buy since the current low interest rates can stretch your spending power."
"Those shopping for a home can afford 10 percent more home than they could have one year ago while keeping their monthly payment unchanged. This translates into nearly $32,000 more buying power."
"Homeowners are the clear winners. Low mortgage rates mean the cost of owning is at historically low levels and who gains all the benefits of strong house price appreciation? Homeowners."
Maintenance and Repairs
Besides low rates, buyers must look at the cost of maintenance and repairs. The average age of a home in Billings is 40 years old. Consider whether the water heater, appliances, windows, roofing, insulation, and cosmetic fixtures need replacement. This could cost a new homebuyer thousands of dollars over the first couple years of ownership. And these are out-of-pocket expenses that aren't part of the purchase price of a home. So before you go for the cheapest house on the market, take the cost of maintenance and repairs into consideration.
Homeowner Dues
If you're considering a planned community, townhome, or condo, then likely there will be a homeowners' association. These are set up to manage and pay for the common amenities and benefits of living in a master-planned community. In some cases, these can be hundreds a month. So be sure to ask the seller's agent if there is an HOA and what the monthly dues cover.
Cost of Utilities
Each home is going to incur monthly costs for water, sewer, garbage collection, electricity, and possibly gas. Make sure you ask the seller or seller's agent what typical monthly expenses are for the property you're interested in. This can vary by hundreds of dollars per home, so it's important to know what to expect before you make an offer. The energy-efficiency of a home is going to play a huge role in how much it costs to heat and cool during our extreme Montana temperatures. Knowing the status of the wall and attic insulation and window and door efficiency will be critical to saving money during our peak seasons. Make sure to ask for an inspection of these things on any offer. Or if you're considering a new home, ask the builder about their energy-efficient features.
Cost of Insurance
Insurance companies assess risk when establishing a quote for homebuyers. If the house you're considering isn't up to code, then likely the cost to insure it will be higher. Older plumbing and electricity, foundation issues, lack of smoke detectors, etc. factor into higher risk categories, so be sure to ask your insurance agent to give you a quote on the property you're considering. This often overlooked cost can significantly affect the overall cost of the home each month. Newer homes are built to today's building codes that factor in safety. The cost to insure a new home is quite a bit less than older homes.
Bottom Line
When purchasing a home, it's important to think about the overall cost, not just the price of the house. Homes on your wish list may be more affordable today due to historically low interest rates. Keep in mind that the cost of a home is more than just the purchase price. Schedule a time with us to discuss how affordability plays a role in Billings, MT, and your long-term homeownership goals.